February 9, 2014
Who ordered the carton of common sense?
»
'Pop-Tart' school-gun bill clears first hurdle
Florida lawmakers are working to keep students from getting in serious trouble for "simulating a weapon" with harmless objects like their fingers, Pop-Tarts or Legos.

State Rep. Dennis Baxley, R-Ocala, said the proposed bill is designed to bar "overreactions" under zero-tolerance policies designed to keep weapons out of public schools.

The bill cleared by a state House panel on Wednesday would bar school districts from suspending students for "brandishing a partially consumed pastry or other food item" bitten into the shape of a weapon or "possessing a toy firearm or weapon made of plastic snap-together building blocks."
…
It would prevent students from facing disciplinary action for wearing clothes that depict guns or "express an opinion regarding a right guaranteed by the Second Amendment.
It's pitiful that laws are required to force people to act like they got some frikkin' sense. But kudos to Florida for being the first to propose one.
"This is addressing a zero-tolerance policy that often will not allow people to use common sense because their hands are tied … "
Of course, this probably means that a lot of taxpayers' money will be shot to shit to fund special seminars to teach dumb-ass school admins how to use common sense.
For example:
… current law requires school districts to create zero-tolerance polices for actions that pose "a serious threat to school safety."
Administrators have been reacting to half-gnawed pop-tarts, lego guns and finger guns as "a serious threat to school safety" and now the law is going to ask them to use common sense? They've already demonstrated they have none.
The quickest method of instilling common sense is an ass whooping … ain't enough ass-whooping going on.
» Dana Loesch Has a Bold Challenge for 'Anti-Second Amendment Advocates' … And It Involves These Guns
» Former Bloomberg Ally Says 'Mayors' Group's Goal Is Gun Confiscation
John Tkazyik, the mayor of Poughkeepsie, N.Y., said he quit the former New York City mayor's group, Mayors Against Illegal Guns, after he realized its objective was outright confiscation of firearms from law-abiding citizens.

It did not take long to realize that MAIG's agenda was much more than ridding felons of illegal guns; that under the guise of helping mayors facing a crime and drug epidemic, MAIG intended to promote confiscation of guns from law-abiding citizens. I don't believe, never have believed and never will believe that public safety is enhanced by encroaching on our right to bear arms, and I will not be a part of any organization that does.
» Obama-appointed judge to decide California microstamping challenge as early as next week
Let's go ahead and put this out there: microstamping doesn't work on the practical level as a way of identifying shell casings consistently, requires manufacturing technology that doesn't exist in a commercial form, makes firearms using the technology more prone to case failure and shooter injury, is so delicate that it is negated through simple use or several passes with a file or common part replacement taking minutes, doesn't prevent crime, and oh yeah, is being used as backdoor gun control to outlaw the sale of all new semi-automatic pistols in the largest market in the nation.

Other than that, it's great!
…
U.S. District Judge Kimberly J. Mueller is hearing the case. Mueller worked as a Democrat before becoming a judge, and we can only hope that the phrases "compassionate" and "caring" in a glowing biography of her aren't simply California code for knee-jerk liberal.

Expect this to end poorly for California gun owners this time around, and for the plaintiffs to appeal the case upward as fast as possible.
The above article referenced the following. Just in case you didn't follow links like I'd prefer you do, I'll excerpt a few important portions:
» PoliceOne's Gun Control Survey: 11 key lessons from officers' perspectives
More than 15,000 verified law enforcement professionals took part in the survey, which aimed to bring together the thoughts and opinions of the only professional group devoted to limiting and defeating gun violence as part of their sworn responsibility.
…
1.) Virtually all respondents (95 percent) say that a federal ban on manufacture and sale of ammunition magazines that hold more than 10 rounds would not reduce violent crime ….
2.) The majority of respondents — 71 percent — say a federal ban on the manufacture and sale of some semi-automatics would have no effect on reducing violent crime. However, more than 20 percent say any ban would actually have a negative effect on reducing violent crime ….
3.) About 85 percent of officers say the passage of the White House's currently proposed legislation would have a zero or negative effect on their safety ….
4.) Seventy percent of respondents say they have a favorable or very favorable opinion of some law enforcement leaders' public statements that they would not enforce more restrictive gun laws in their jurisdictions. Similarly, more than 61 percent said they would refuse to enforce such laws if they themselves were Chief or Sheriff.
5.) More than 28 percent of officers say having more permissive concealed carry policies for civilians would help most in preventing large scale shootings in public ….
6.) The overwhelming majority (almost 90 percent) of officers believe that casualties would be decreased if armed citizens were present at the onset of an active-shooter incident.

…
Bottom Line Conclusions
Quite clearly, the majority of officers polled oppose the theories brought forth by gun-control advocates who claim that proposed restrictions on weapon capabilities and production would reduce crime.

In fact, many officers responding to this survey seem to feel that those controls will negatively affect their ability to fight violent criminals.

Contrary to what the mainstream media and certain politicians would have us believe, police overwhelmingly favor an armed citizenry, would like to see more guns in the hands of responsible people, and are skeptical of any greater restrictions placed on gun purchase, ownership, or accessibility.

The officers patrolling America's streets have a deeply-vested interest — and perhaps the most relevant interest — in making sure that decisions related to controlling, monitoring, restricting, as well as supporting and/or prohibiting an armed populace are wise and effective. With this survey, their voice has been heard.
Since the progressive/leftist/commie gun confiscators have always made claims of law enforcement support of their agenda, this should either shut them up (it won't) or all citizens should shut them up.
» Speed shooter Jerry Miculek trolls CA state Senator de Leon with "30 Caliber Magazine Clip"
California State Senator Kevin De León is the laughingstock of the shooting community, thanks to a howlingly ignorant press conference he gave about a piece of legislation he's introduced to ban firearms that don't exist, to do things that are mechanically impossible:

This is a "ghost gun." This right here has ability with a 30-caliber clip to disperse with 30 bullets within half a second. 30-magazine clip in half a second….

There are no such thing as "30-magazine clips"… or at least there weren't until Jerry Miculek, one of the fastest professional shooters of all time, decided to get involved, and cobbled one together by duct-taping and rubber-banding a standard capacity 30-round AR-15 magazine to M1 Garand en-bloc clips
Lemme Summit Furya
Any time a politician (or non-politician blowhard) spouts about the evils of gun ownership, they are doing so out of moronic ignorance and doing so with the profound agenda of disarming the American citizenry thereby rendering citizens to subjects.
Because armed citizens are hard to control.
There it is … it's not about gun control, it's about subject control.
»
Text of Elijah Cummings Letter to Catherine Engelbrecht: Intimidation? Absolutely!
Catherine Engelbrecht of True the Vote testified before Congress yesterday and then filed a complaint with the Office of Congressional Ethics against Rep. Elijah Cummings (D-MD).
…
Identifying multiple registrations that are specifically voting more than once and cleaning-up voter rolls by removing names of all dead registrants, is not good thing, in Cummings opinion.
» Catherine Engelbrecht: Bloodied but Unbowed
Leftist congresscritter Elijah Cummings has played a key role in targeting Engelbrecht for political repression. Here he attempts to establish that True the Vote is racist for trying to restore integrity to our disintegrating electoral system

Note Cummings' reference to North Carolina "poll watchers"? Did Elijah ever utter a peep about the Philidelphia 2008 poll watching done by the New Black Panthers?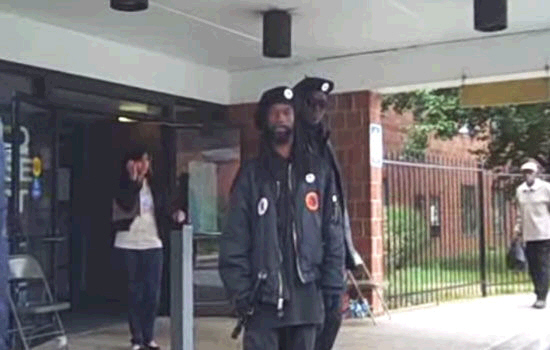 Poll "Watchers" with clubs and paramilitary uniform
And did Elijah
ever
utter a peep when the U.S. Attorney General dropped charges against the 'poll watchers' in contempt of raw photo and video footage and multiple witnesses?
»
It's time to get rid of the EPA
It is time to call out this enviro-bureaucratic conspiracy for what it is: The most elaborate, expensive, egregious government-subsidized hoax in human history.

…
This, in a nutshell, is the modus operandi of Obama's regulatory state: Erring on the side of government intrusion no matter what the outcome.
…
Recently emails obtained by the Energy and Environment Legal Institute under the Freedom of Information Act (FOIA) revealed senior EPA officials had been meeting with leaders of the radical environmental lobby in an effort to kill the Keystone XL pipeline – an energy project which boasts broad bipartisan support in Congress.

"These damning emails make it clear that the Obama administration has been actively trying to stop this important project for years," U.S. Sen. John Barrasso (R-Wy.) said.

Previous FOIAs submitted by this organization uncovered similarly cozy conspiracies with far left environmentalists to shut down coal-fired plants – including one involving a high-ranking EPA administrator who used his personal email address to secretly plot coal's demise.
»
NBC's Description of Soviet-Era Communism Stuns Marco Rubio, Other Viewers During Olympics Coverage
During NBC's coverage of the opening ceremony of the 2014 Olympics in Sochi, a narrator described Soviet-era communism as a "pivotal experiment." Many viewers objected to the reference and were quick to point out the mass suffering and death endured under communist leaders like Joseph Stalin.
I suppose we could carry that euphemistic phrase a step further to describe the current Russian citizens as the post Soviet-Era survivors … the experimental guinea pigs that got away. Too bad for all the millions that died during the experiment.
According to the online Merriam-Webster dictionary, pivotal is defined as "of, relating to, or constituting a pivot" or "vitally important."
And Wikipedia defines experiment as "an orderly procedure carried out with the goal of verifying, refuting, or establishing the validity of a hypothesis. Controlled experiments provide insight into cause-and-effect by demonstrating what outcome occurs when a particular factor is manipulated. Controlled experiments vary greatly in their goal and scale, but always rely on repeatable procedure and logical analysis of the results."
The hypothesis being examined was whether or not a tyrannical government could get away with 'take from the rich, pretend to give to the poor until all the rich are poor, then kill the poor'. Or as we call it here in America, Hope and Change.
After 'manipulating the factors' the outcome was untold millions dead, untold wealth squandered and the decimation of one of the largest nations on the planet.
But that's a whole mouth-full of platitude to cram into one opening-ceremony commentary, so they went with pivotal experiment.
» Christian Useful Idiot: Mohammed Was The George Washington Of His Time
» Congratulations! You're a Heretic, 21st Century-Style
»
Berkeley prof forces students to tweet pro-Islam views
Students in Professor Hatem Bazian's class at the University of California at Berkeley are required to publicly denounce Islamophobia on Twitter while designing strategies to help Islamic groups improve their outreach efforts.
… an email from a student in Bazian's class who claimed: "I've been told by one of my professors I will be required, as part of my grade, to start a Twitter account and tweet weekly on Islamophobia. I can't help but feel this is unethical. This is his agenda not mine."

…
There are 100 students in the class, all of us forced to create individual Twitter accounts. I'm not wholly clear on what our final project is yet (I find it very interesting that he excludes both the Twitter account requirement AND the final project from his official syllabus) … I feel … between the Twitter stuff and the final project he's basically using us as unpaid labor to work on his agenda.

… ample evidence that the professor was forcing non-Muslim students to become advocates for Bazian's agenda of "Muslim victimhood in America, irrespective of how it's defined or whether it exists,"
»
Wisconsin School Gets Kids to Snitch on Parents
The game is called "Cross the Line" and many outraged parents believe that it does just that.

A middle school in Marinette, Wisconsin got a group of 5th-8th graders together and organized a really fun game that asked students to step forward to answer "yes" to a series of highly personal questions.

Questions like…

Do your parents drink?
Do you cut yourself?
Has anyone in your family been to jail?
Have you ever wanted to commit suicide?
Do you or your parents do drugs?

Unbelievably, school administrators believed that this "game" would help the kids to be better and kinder friends. "The intent of this activity was to build stronger, more respectful relationships among students," said Principal Shawn Limberg. The "game" was part of an anti-bullying program.

Of course, Limberg also said the "game" was completely voluntary, an assertion that was disputed by one young girl who told her mother she'd have to go to in-school suspension if she didn't participate.

…
This collection of information from unwitting children could be used to instigate social services investigations, to find out which parents are using their 2nd amendment right to own firearms, whether they've complied with Obamacare, what their lifestyle choices are, how they practice their religious beliefs, what the family's political beliefs are, or to single out kids for forced medical or mental health treatment against the wishes of their parents. We need only look at all of the zero tolerance hysteria to see how quickly this could get out of hand.
~~ via MoonBattery : Educrats Cross the Line
Typical of outrages inflicted by moonbat educrats, the whole business was part of the school's "bullying prevention program." Maybe the idea is to prevent bulling by asserting the government's monopoly on it.

Until education has been pried loose from the claws of Big Government, I have one word of advice for parents: homeschool.
Filed under
» If A Tree-Ring Temperature Falls in the Forest …but the climate scientist refuses to see it, is the science it makes sound?
At the precise moment when the tree-ring proxies and actual temperatures are in near perfect agreement on a decades-long cooling trend, Mann dumps the tree rings and moves to "observed temperatures" – which have been conveniently revised upward from when they were originally observed. As Steven Goddard says:

In order to create the hockey stick cheat, they had to do the GISS data tampering cheat first. The entire basis of the hockey stick is junk science.

The tree rings are supposedly reliable in the pre-thermometer era. They remain reliable in the age of thermometers as long as both the thermometer and the tree ring are going up. If the thermometer's going up but the tree ring's going down, then it's the thermometer that's accurate and the tree ring that's junk. And, if both the thermometer and the tree ring are going down, then neither is accurate and we need to goose the thermometer a little.

And if at the end of all that you have a 15-year "pause" in warming, then as Mr Goddard remarks elsewhere:

If the present refuses to get warmer, then the past must get much cooler.
»
A primer of sorts on the Saturday activist left #MoralMarch in NC
In reality, "Moral Monday" consists primarily of disgruntled activist North Carolina Democrats in the left wing Triangle and Western areas of NC who are sick that the Democrats' century-plus domination of this state came to a halt in 2010, and even more so in 2012 with a GOP super-majority and GOP Governor. The Triangle area, I should note, is where most of the left wing Blueprint NC think tanks are located, and I'd be remiss in my duties as a citizen journo if I didn't note that it was reported last February (surprisingly enough by the local media) that these think tanks more or less agreed to coordinate to try and"cripple" state government in order to try and get what they wanted because they knew they could no longer do it legislatively. Now, I'm sure there are rank and file people who are part of Moral Monday who have previously never demonstrated before, but most of them are there because the professional left here – led by "spiritual leader" Barber – have convinced them that the state GOP are racist, sexist, evil capitalist "white men" who want to take us back to 60s and before. Ironically enough, that sad and reprehensible time in NC politics happened to be when Democrats were in control, but why bother with that inconvenient little fact?
February 9th, 2014 under Uncategorized.