January 26, 2014
»
Obamacare: A welcome mat for IRS horrors
So you've maneuvered the Obamacare website, plugged in your top-secret information and found out how much you are paying.

And for some of you, it turns out you qualify for a government subsidy — making the premium sound like a bargain. But signing on that line to accept the government's cash also means you're making a deal with the devil.
The government hasn't told you this subsidy comes with a price…
All these plans as a whole with their common aim of legal plunder
constitute socialism

~~ via Doug Ross : A Warning Straight Out of 1850

»
The Last Generation of the West and the Thin Strand of Civilization
Over 90 million Americans who could work are not working (the "non-institutionalized" over 16). What we take for granted — our electrical power, fuel, building materials, food, health care, and communications — all hinge on just 144 million getting up in the morning to produce what about 160-170 million others (the sick, the young, and the retired who need assistance along with the 90 million idle) consume.

Every three working Americans provide sustenance for two who are not ill, enfeebled, or too young. The former help the disabled, the latter take resources from them. The gang-banger has only disdain for the geek at the mall — until one Saturday night his liver is shredded by gang gunfire and suddenly he whimpers (who is now the real wimp?) that he needs such a Stanford-trained nerd to do sophisticated surgery to get him back in one piece to the carjackings, muggings, assaults, and knockout games — or lawsuits follow!

… how thin the strand of civilization hangs — given that the forces of our modern Lotus Eaters … have stopped the Keystone Pipeline, stopped most federal leasing of new gas and oil finds, and are trying to regulate fracking and horizontal drilling out of existence where it might be most vital to the U.S.

… How ironic is the Sierra Club Bay Area grandee who finds light when he flips on his office switch, and would find no light were his utopian ideas about wind, solar, and biomass to come to full fruition. Only what he despises — radioactive uranium, messy drilling rigs, and unnatural dams — for now continue to bring him what he must have. Again, the theme: the more the green activists empty reservoirs to save a bait fish, or stop fracking, or prevent salvage logging, the angrier they sigh that it is not enough and the more they must count on someone ignoring them to provide them with what they must have.
What will history make so far of our five-year voyage with Barack Obama? What will it make of hope and change — other than a sort of hysteria of 2008 that was a political version of the Pet Rock or the Cabbage Patch Doll derangement? Did we really experience faux-Greek columns and Latin mottoes (vero possumus) as Obama props to usher in the new order of the ages?

What exactly made David Brooks focus on trouser creases, or Chris Matthews on involuntary leg tickles? How could any serious person believe a candidate who promised to change the very terrain of the planet? Why would sober critics declare a near rookie senator "a god"?

…
Another legacy of Obama is the notion that there is no such thing anymore as a scandal. Obama labeled the IRS corruption as "outrageous" and then recently backtracked and berated progressive journalists for even thinking that the Tea Party was treaty unfairly by his administration's IRS appointees. No one yet in the administration has confessed that a video did not cause the deaths of Americans in Benghazi. Nor is anyone contrite about the AP monitoring. That the president of the United States serially lied over Obamacare earns a "duh." The NSA mess warrants a "whatever." Each time we witness something akin to the NSA, IRS, AP, and ACA machinations in the future, the supporters of the next untruthful or immoral president will no doubt offer in defense, "But Obama did worse and nobody cared." Obama's ethical legacy is the doctrine of medieval exemption: declaring that he is seeking exalted ends excuses the tawdry means of obtaining them.

…
Obama has taught us that vast expansions in borrowing, public entitlements, sloppy infrastructure spending, huge new federal programs, and the end of passbook interest are ways of institutionalizing 7%-plus unemployment, near non-existent comic growth, and growing collective dependency. Obama's five-year economic recovery plan will be studied for decades as a textbook example of what not to do in a recession, or immediately following one.

…
The Euros dreamed that they wanted Obama as a partner in neo-socialism, climate change activism, and non-alignment foreign policy. Well, they got what they wanted, only to discover that the Western world does not work with two European Unions. For an adolescent to dream of cradle-to-grave entitlements and utopian peace, there must be an adult to ensure free markets and military preparedness.

… Oprah warns us that racism fuels Obama's low polls and shrugs that millions of Americans must die for racism to end.
… Morgan Freeman had charged the entire Republican Party and the Tea Party with racism for its opposition to Obama.
… A Jamie Foxx or Chris Rock casually derogates "white people"
… Kanye West thinks it cool to peddle Jewish stereotypes
»
The IRS's Political Bias Goes Hollywood
As the Times notes, there is no shortage of Hollywood-based liberal non-profits that spend heavily to promote their political point of view on a host of issues that interest the elites of the entertainment industry. The difference between those groups and the Friends of Abe is stark in terms of their ability to mobilize actors and others who work in film and TV as well as in the willingness of their backers to be open about their political affiliation. Where Lear's group and others founded by the likes of Matt Damon and Leonardo DiCaprio spend heavily, and bathe happily in the glow of publicity that promotes their causes as well as it enhances the careers of their members, the Friends of Abe seems to operate more like a support group for wary members of a discriminated minority. Not only is their membership list a closely held secret, but no photographs are permitted at their meetings and dinners to protect the identities of those in attendance lest they be outed as conservatives and consequently subjected to the informal but undeniable blacklisting that anyone so designated is forced to suffer in Hollywood.
» Trailer for Dinesh D'Souza's America
Conservative author and filmmaker Dinesh D'Souza has been released on $500,000 bond for the supposed crime of giving $20,000 to a failed Republican Senate candidate. He faces up to 7 years in prison. When Pierce O'Donnell donated the same amount to liberal John Edwards, it was regarded as a misdemeanor offense.

Why is Big Government attempting to break D'Souza's legs with draconian selective enforcement of insanely convoluted not to mention brazenly unconstitutional campaign finance restrictions? Because our rulers want him discredited and possibly incarcerated before he can drop any more bombs on them like the excellent 2016: Obama's America. But D'Souza's America is going to go off like a firecracker on the 4th of July anyway.
Fascism, straight up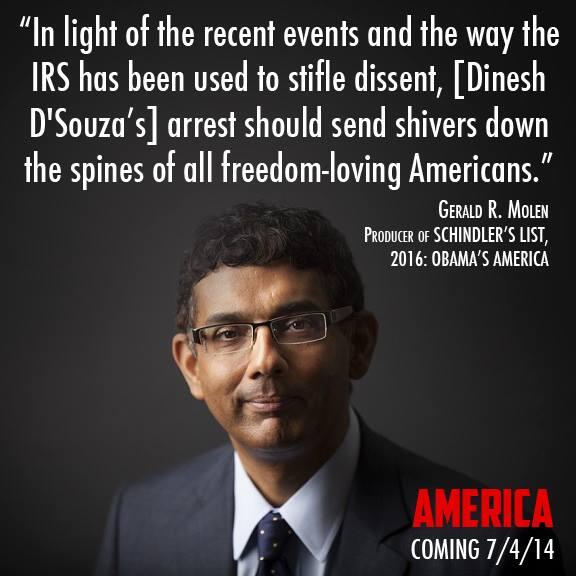 ~~ via Doug Ross :
On What The Arrest Of Dinesh D'Souza Should Mean To Americans
» Federal appeals court rules bloggers are real reporters under the First Amendment
» EPA green program lays a golden egg for con artists
» Bloomberg gave $10M contract to company behind botched ObamaCare rollout
» ARIZONA GOP CENSURES SEN. JOHN MCCAIN FOR SUPPORTING ISSUES 'ASSOCIATED WITH LIBERAL DEMOCRATS'
» So that's why Hollyweird singled out Serbs.
» MICHELLE OBAMA'S BIRTHDAY PARTY IS REPRESENTATIVE OF THE ENTIRE ADMINISTRATION
» Emerging Market Contagion Spreads; Argentina, Venezuela, Turkey Roundup; 50% Tax on Internet Purchases
»
The Solution is the Problem
The problem with our problems is usually their solution. If we were to take a closer look at many of our problems, it would turn out that many of them are actually solutions that were meant to solve those very problems. Our War on Poverty has spread poverty. Our attempts at fighting racism have perpetuated it. Our campaigns for energy efficiency invariably waste more energy than they save.

We tried promoting populism to solve terrorism in the Middle East and got even more terrorism for our troubles. The more resources we put into education, the more the educational system runs backward. Every attempt at creating jobs seems to vaporize more jobs than it creates.

…
Social solutions are all about social engineering masses of people on the assumption that they will behave in a predictable way over extended periods of time even when they are aware of what is being done to them and even when the conditions of the experiment come apart as your $600 million website not only doesn't lure in the cool kids to sign up, but works about as well as a plugging your toaster into hope and change and waiting for it to magically do something.
»
Benghazi Ruining Liberals Deal With She-Devil Hillary
They nominated Obama, over Hillary, despite Obama's lacking even the thin resume that Hillary had.

Yes, her most notable accomplishment has been being a cuckold to Bill for 39 years, many of which he served in public office—and that better qualifies her to be president than Obama. This has become very apparent to everyone over the last five years.

So Democrats may indeed make her party nominee for president. Her failures might be seen by Democrats in a positive light, just like they see Obama's failures positively.

Back to Saturday Night Live: They did a spoof of the "Hillary 3AM" commercial in which Obama didn't even know how to turn on the White House furnace.
… He still doesn't know how to do it.
»
First Nations chief received $55,000 from Tides Foundation
A left-wing lobby group in San Francisco wired $55,000 to the bank account of an Indian chief in Northern Alberta, paying him to oppose the oilsands.
Adam didn't do a lot of talking in Toronto. He was more of a prop than an actor. See, the Tides Foundation is from San Francisco. And Neil Young lives on a 1,500-acre estate near San Francisco. Without Adam, this would have just been some California millionaires coming up here to boss Canadians around. That's why they had to hire Adam, to aboriginalize their attack on Canada. It was political sleight of hand, to distract from the fact that this was a foreign assault on Canadian jobs.
…
The Tides Foundation put $55,000 into the bank account of a mayor to get him to take a particular political position. Depending on what Tides was getting the Chief to do, the payment might well have been a bribe. But we won't know, because no one is talking about the $55,000 payment.
…
The payment was well-hidden – and Adam certainly didn't disclose it when he was on stage with Young.
…
If a foreign oil company – say, ExxonMobil – was depositing secret payments in the bank accounts of MPs, it would be a scandal. Those MPs would face an RCMP investigation, Exxon would likely be charged with bribery, and the media on both sides of the border would have a field day.

Yet none of those things will likely happen with Adam.

Because the Tides Foundation knows that the Canadian media and even the police are cowards when it comes to Aboriginal politicians. They don't dare hold them to account, for fear of being called racist. If you doubt this, look at the continued success of Theresa Spence, Attawapiskat's chief.

Tides got its money's worth.
» Don't miss the EU transformation on renewable energy
Filed under: Skeptics are winning.

The EU was always the leader in the Great Green Push, and announcements on Wednesday are an excellent sign. Both the media and politicians are finally coming around, dragged by reality. This is the good news. The bad news is it's cost hundreds of billions, and there are still renewable targets when there shouldn't be, but we are over the peak…

…
The talk is for an "ambitious" 40% target by 2030, but really this is about dropping the legally binding nature of the targets. So as usual in warmist politics, no one is up front and honest. It's a face-saving move as the green reality falls.
…
Finally the mainstream press is starting to report the real pain. Cons are always cloaked in good intentions. And this is no different. A stupendous swindle dressed up as being good for the poor and the planet has instead extracted money from the poor towards some of the wealthy. Nearly a million people have lost access to one of the most basic essential services, electricity, thereby rolling back one of the great advances of the last century.
» Antarctic climate scientists finally return: ABC covers for the $2.4m failure. Speedy's epic poem
» Ship of Warmist Fools to get bill for rescue
The Federal Government of Australia laid out $2.4 million (Australian dollars) to help rescue the ship full of global warming true believers, who got ice-bound in Antarctic waters they were dead certain had to be melting. And now it wants to paid back for that needless expense.

About 2.30pm the weather deteriorated. At the same time Captain Kiselev saw slabs of sea ice moving into the open water channel from which the ship had entered the area. He called for everyone to return.
A passenger standing near Professor Turney overheard the voyage leader, Greg Mortimer, telling him over the radio to bring passengers back to the ship so it can leave.
But minutes later, Professor Turney drove six more passengers into the field.
…the insurers will likely say the incident was caused by negligence on the part of Dr. Chris Turney, and toss the claim back in their laps.

…
I can hardly wait for the lawsuits and depositions to begin.
And, don't forget, the Government of China also dispatched an ice breaker to the rescue, and should get paid back for its efforts as well. I would love to see this degenerate into a lawyer's festival, with insurance companies suing Tunney, and Tunney suing his rich warmist passengers, and everyone suing Al Gore for spinning the fantasy in the first place and walking off with countless millions of dollars from the hoax.
»
With This I Can Rest My Case Against the Mainstream Media…
…and in particular, MSNBC. Here we see a Congresswoman trying to discuss the alarming abuses of power by Obama's NSA — until she is interrupted in the middle of a sentence for news on a spoilt entertainment industry brat of no significance who was arrested for behavior monotonously characteristic of spoilt entertainment industry brats
»
THE 'EARTH-SHATTERING' NEWS RUSH LIMBAUGH SAYS THE MEDIA IGNORED, BUT YOU NEED TO KNOW
The state of Wisconsin's unemployment rate is "rapidly falling" and the government's budget ended the year with a $912 million surplus
…
Walker is going to "rebate the money in the form of tax cuts to the people, who he said own the money
…
Walker was targeted for removal twice but continued to implement conservative policies that he was confident would help his state — and his strategy appears to be working.
…
The state of Wisconsin instituted his policy reforms, de-emphasizing the role of unions in the state
January 26th, 2014 under Uncategorized.